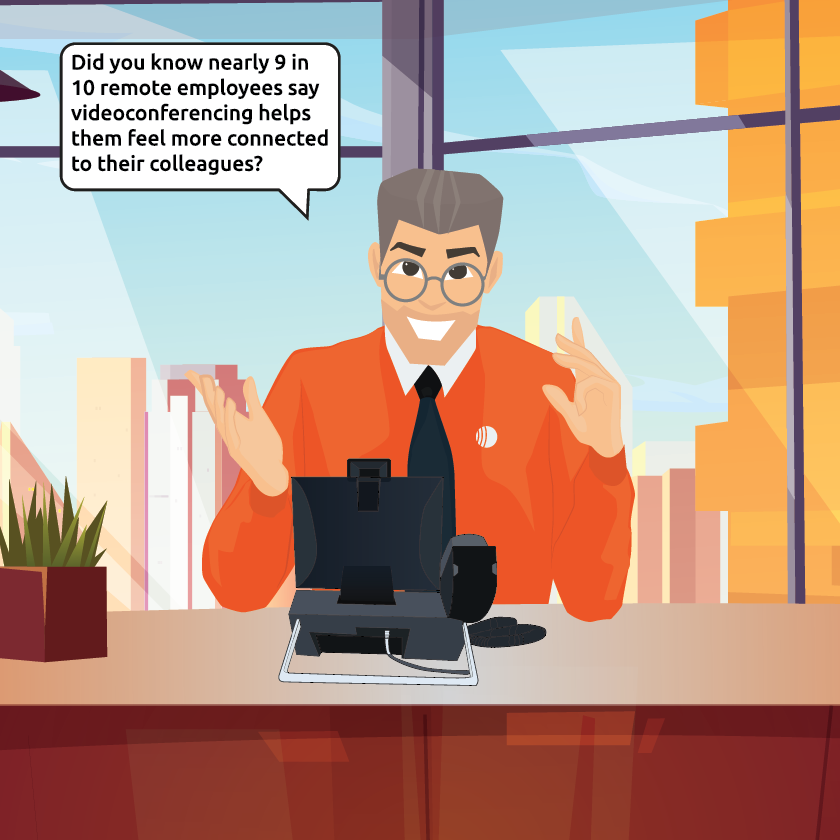 In 2020, the world changed—and it happened virtually overnight. Companies had to rapidly shift their workforce from office-based work to remote work. While most are now used to videoconferencing, companies continue to grapple with how to keep their now dispersed staff engaged and connected to each other. A study conducted by IMCCA found nearly 9 in 10 remote employees say videoconferencing helps them feel more connected to their colleagues.
With these findings, the importance of videoconferencing cannot be understated. It helps keep your employees engaged, regardless of where they are—but the benefits extend far beyond that. Today we're discussing six other ways your business can benefit by adopting VoxSun's videoconferencing system.
1. Reduced Travel Times and Costs

Eighty-two percent of travelers report less stress when they're able to cut back on their trips. While some in-person meetings are sure to resume post-pandemic, having an easy-to-use videoconferencing system with face-to-face like capabilities will make travel optional, not required. With the ability to invite entire teams or departments, these virtual meet-ups can replicate the feeling of being part of an in-person group or meeting and the energy that generates.
VoxSun videoconferencing delivers a collaborative and near in-person experience without the high costs of travel.
2. Support Flexibility and Future Ways of Working
Prior to 2020, it was becoming more common to see employees distributed throughout the world. Now, many companies are flipping the switch completely to a remote-first workforce. As ways of working continue to evolve, and employees seek additional flexibility from their employers, an easy-to-use videoconferencing system will be at the center of how your business connects with both employees and customers.
According to Canadian Business, 70% of millennials seek employers who support flexibility and remote work. Not only will using VoxSun videoconferencing help you retain your existing workforce but also help you recruit top talent in the future. Is your business prepared for the workforce of today and tomorrow?
3. Help Build Better Relationships
When you meet face-to-face, you're able to make a personal connection and pick up on verbal and non-verbal cues, which isn't so easy to do over the phone. Videoconferencing allows you to connect on a more personal level and build better relationships, both inside and outside the company.
4. Helps Reduce Your Footprint

Real estate: it's the second highest expense after payroll. In major North American cities, it's to the tune of $7,792 USD per employee per year. With VoxSun's videoconferencing system, you can keep your team connected, regardless of location, and reduce your footprint. Videoconferencing is an easy way to keep your employees happy while reducing expenses.
5. Increase Productivity
Lost emails. Endless email threads. Missed calls. Version control issues. These all scream lost productivity yet are a daily occurrence.
By giving your employees the ability to easily hop on a videoconference, you can ensure everyone is seen and heard, questions are answered, and everyone is on the same page. By reducing travel, your team can also devote more time to their projects and deadlines.
6. Reduced Environmental Impact
"Sustainability," "corporate responsibility," and "going green" have been around for quite some time. Companies are increasingly recognizing the need to protect Earth's resources and reduce our carbon footprint. Recognizing that corporate travel has a significant impact on the environment, more companies are turning to videoconferencing.
Corporations have taken note of the fact that taking just one step – implementing VoxSun's videoconferencing system – can drastically reduce their carbon footprint and improve their bottom line.
Videoconferencing is growing at record speed, as businesses look to capitalize on increased employee engagement and satisfaction. Beyond that, quantifiable benefits include reducing travel and real estate expenses; increased collaboration and productivity; reduced environmental impact; and helping build stronger relationships, both internally and externally.
Are you ready to see for yourself? Contact VoxSun today to learn how videoconferencing can improve your business.
Please click here to get a free analysis:
https://voxsun.com/wp-content/uploads/2020/10/logo-voxsun-en.svg
0
0
2021-05-11 13:51:10
2021-09-10 19:02:30
6 Ways VoxSun Videoconferencing Benefits Your Business