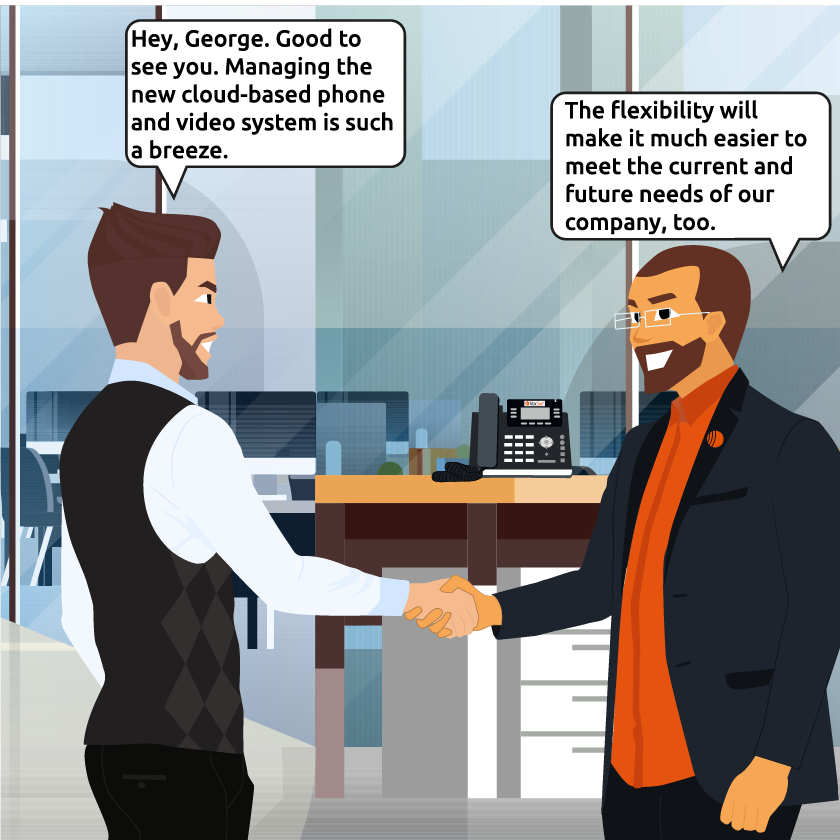 One of the only constants in business is change.
This means flexibility is—and should be—a key consideration when choosing a business phone system provider. In the past year alone, society has become increasingly connected yet also increasingly dispersed. To meet the needs of today's changing business landscape, small and medium-sized businesses are turning to Voice over Internet Protocol (VoIP), or cloud-based business phone systems, to deliver the flexibility, cost-efficiency, and quality their business demands.
VoIP telephone systems use your internet connection to send your voice to a recipient, rather than using a traditional phone line. The benefits of using a VoIP-based business phone system are many—but here are the top five.
VoIP meets the needs of today and tomorrow's office
Many of the largest companies are rethinking their offices following the pandemic. Some are increasingly turning to "hot desks," where employees will share desks or not have assigned desks. Others are turning offices into community-based, shared spaces versus cubicle farms. This means not every employee will be working in the office at the same time or on the same schedule. Today, your communications system needs to allow for employee mobility.
This is where the flexibility of VoIP comes into play. With a VoIP phone system, employees can use their "office phone" on any internet-enabled device or, while in the office, by logging in from any desk using their unique profile.
VoIP scales with your business
When your business is growing or consolidating, your business telephone system needs to grow or shrink along with it. When you create your cloud-based business phone infrastructure, you'll likely have a specific number of users and devices in mind. With VoIP, this is simple compared to a traditional phone system. With a traditional phone system, you'll need to physically invest in new handsets, phones and wiring. With a cloud-based business phone system, you easily can add or remove users and lines to your infrastructure with little effort.
No longer will you need to pay for lines you're not using or fear missing customer calls due to far too few lines. Instead, you can keep your phone system in sync with your business.
No contract
Often, when people think of phone providers—whether personal or business—they fear the inevitable contracts and headaches that come along with it. No more—at least not with VoxSun. Instead, you get high quality voice and video with no contracts, and all with a reduced monthly fee. Now that's what we call flexibility.
Line sharing
With VoxSun's cloud-based business phone system, you can share your phone number across multiple devices. This allows multiple phones to share the same line. It allows a user to easily place a call on hold, pick up a held call or move between calls or devices with a simple press of a button. Pick up where you left off on your laptop, smartphone or tablet.
Easily integrates with other business systems
Your business is likely using other systems and technologies to enhance your efficiencies. A cloud-based business phone system easily integrates with a variety of business software and CRMs, such as HubSpot, Zoho and Outlook.
With VoIP, you can realize all the benefits without modifying many of your existing applications or IT infrastructure—all while making your employees happier and more productive.
The benefits of VoIP or cloud-based business phone systems are many. Thousands of businesses around the world are making the switch as they embrace the technology while enabling their employees to be more productive.
If you're ready to explore what a cloud-based business phone system can do for your business, please click here to get a free analysis by VoxSun
https://voxsun.com/wp-content/uploads/2020/10/logo-voxsun-en.svg
0
0
2021-07-06 14:08:04
2021-09-10 20:31:27
Increasing Your Businesses' Flexibility with VoIP