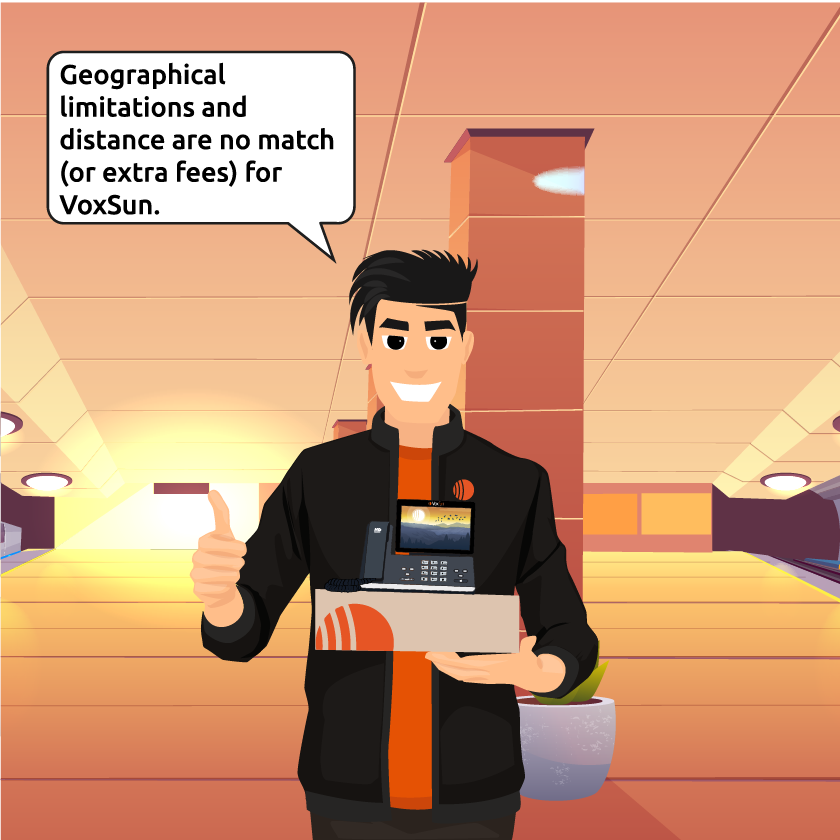 Do you know of a business still using a landline or on-premise phone system? Or maybe your business is? If the answer is yes, either you or the business you know is likely overpaying for less effective service. Today, there are many could-based/Voice over Internet Protocol (VoIP) business phone services on the market to help you save money and better run your business.
What is unlimited calling?
When it comes to business phone services, not all are created equal. When you use a cloud-based business phone provider like VoxSun, calls are made using VoIP. This means calls are routed through an internet connection vs. traditional analog phone lines that uses copper wires. VoIP can be used through various methods, including VoIP desk phones, smartphone apps and even traditional phones through a special adapter.
Unlimited calling using VoIP means no surcharges, tolls or overages when calling any phone number in the United States or Canada*
* Excluding Hawaii, Alaska excluding Northwestern Territories
Advantages of unlimited calling
Eliminate long-distance fees
Many companies use VoIP or cloud-based phone services to lower their communications costs, all while enhancing their productivity. It allows companies to stop keeping an eye on minutes and talk time and instead focus on better serving customers and closing deals.
Most cloud-based business phone providers like VoxSun offer unlimited calling across the Canada and United States at no extra charge. For most businesses, this is a must-have. Compare this to traditional phone carriers who charge you long-distance fees when calling phone numbers outside of your area code.
Expand your business without worrying about long-distance fees
When using a cloud-based business phone provider like VoxSun, your employees can keep in touch with each other, from anywhere in the world, for virtually next to nothing. As more businesses are going remote-first or adopting a flexible work model, the days of all employees being in one location together are over.
Fortunately, VoxSun makes it easy and cost-effective. Employees can connect with each other, or with your customers, anywhere in the world if they have an internet connection. Or, regardless of where employees are that day, they can use the VoxSun app on their smartphone to make and receive calls, too.
Is your business ready to become more competitive?
Unlimited calling is only one of many features when you switch to VoIP phone systems. You'll also have high-quality telephone and video conferencing, faxing, options for toll-free and vanity phone numbers, call recording, voicemail and much more. For businesses who often make long-distance and international calls, unlimited calling will become so much cheaper as you're no longer relying on traditional telephony.
Are you ready to make your business more competitive in today's hypercompetitive environment where companies need every edge they can get? Then contact VoxSun and learn how your business can benefit from unlimited calling and more.
Please click here to get a free analysis: https://www.voxsun.com/quote/
https://voxsun.com/wp-content/uploads/2020/10/logo-voxsun-en.svg
0
0
2021-08-24 13:16:51
2021-09-10 21:06:56
Tired of Your Business Being Charged by the Minute for Long-Distance Calls? VoIP Can Help