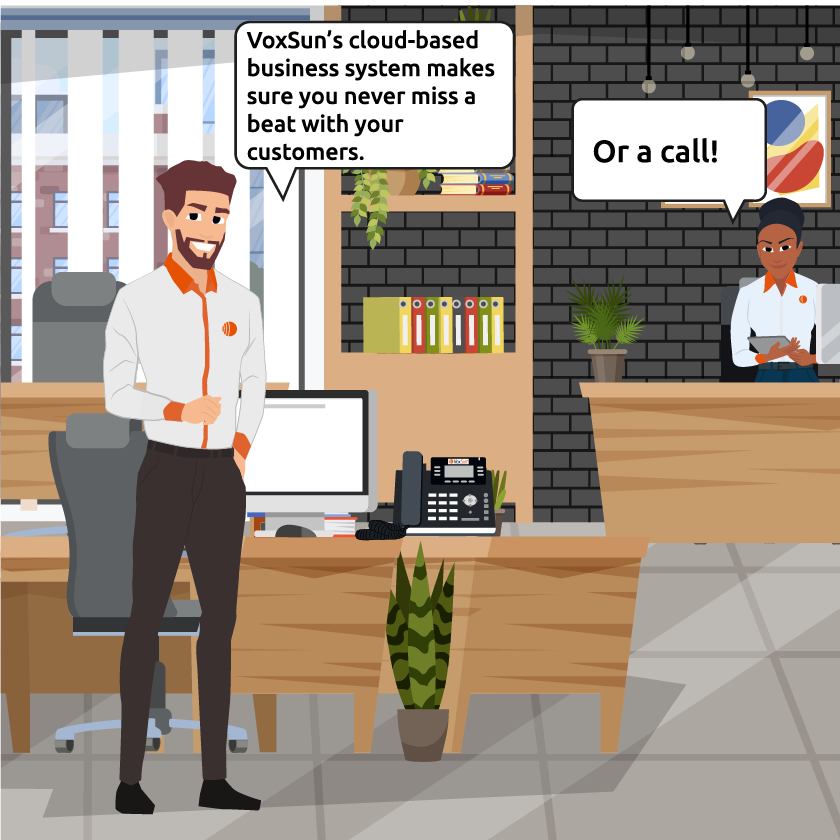 When you call a business, the worst thing that can happen is you receive a busy signal or voicemail. Talk about frustrating! To overcome this, many businesses use the call queue feature. Chances are you've been in a call queue, too, when calling a company. By using the feature effectively, you can keep your customers happy and minimize hold times.
What is a call queue?
Call queue is a feature available on Voice over IP (VoIP) or cloud-based business telephone systems, such as VoxSun. It offers businesses a way to manage their incoming calls—especially during peak periods and high call volumes.
Essentially, it places callers in a line, or a "queue," while support agents answer other calls. The queued calls are then distributed to the next available agent in the order in which the calls were received. As an example, if there are four callers and only three available agents, the fourth caller will wait in the queue, on hold, until an agent is available. The agent would then take the fourth caller.
While the call queue feature was once limited to large companies or call centers, it is now accessible to any business, whether a start-up or medium-sized business, thanks to the proliferation of VoIP business phone providers.
How does a call queue help small and medium sized businesses?
1. It reduces average hold times

Using the Interactive Voice Response (IVR) feature, information will be gathered, and the calls will be assigned a priority. This means callers who have answered or dialed in details may be bumped up in the priority list and they'll receive responses quicker. This then reduces the average hold time for all callers in the queue.
2. Improves customer support

Businesses want to do all they can to retain customers and improve the overall experience. If callers have to wait too long, they will hang up or, worse, take their business elsewhere. Using the call queue feature, along with IVR, helps create a smooth and pleasant experience for customers.
3. Prioritize urgent needs of customers

If you have a customer facing a frustrating issue, the system can promote the customer further up in the line (or queue). This can be accomplished using the IVR through vocal or dialed prompts. This is another way to help reduce churn for your business.
4. Play messages or music during the queue

Let's face it: no one likes waiting on hold. However, businesses can play either music or sales messages while the caller is on hold to help make the wait more pleasant. VoIP give you the ability to set the message or music you'd like the caller to hear.
Waiting on hold is an inevitable part of life but businesses can make it more pleasant by using the call queue feature on their VoIP or cloud-based business phone system. By taking advantage of this feature, you can enhance your customers' satisfaction and the overall customer experience.
Contact VoxSun today to learn how the call queue feature, and a cloud-based business phone system, can help your company.
Please click here to get started today and to receive a free analysis from VoxSun: https://www.voxsun.com/quote/.
https://voxsun.com/wp-content/uploads/2020/10/logo-voxsun-en.svg
0
0
2021-09-07 13:57:54
2021-09-10 21:09:29
Using the VoIP Call Queue Feature to Enhance Your Customers' Experience