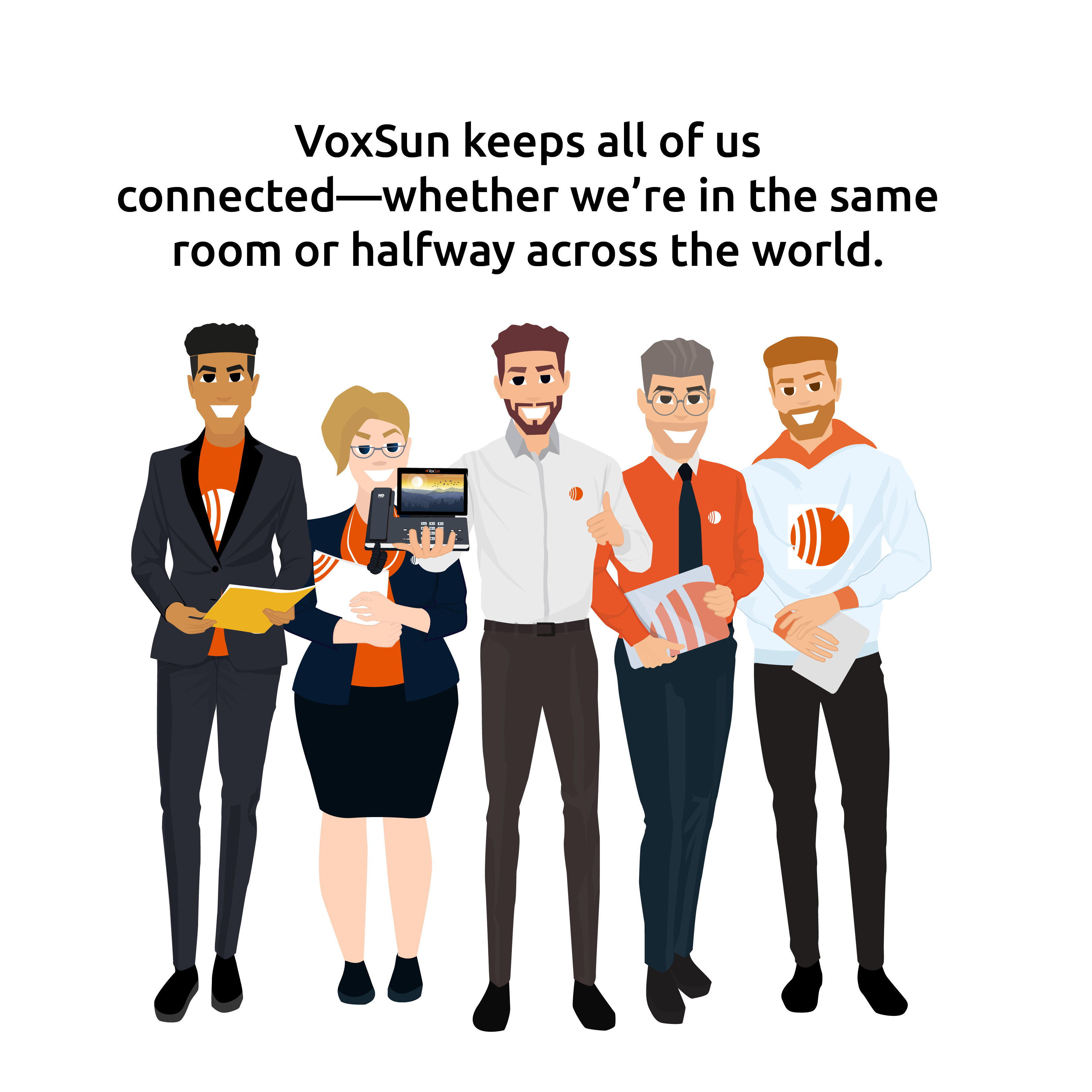 In the business world, each day we communicate with many colleagues, customers, prospects and vendors. At many companies, communication channels are scattered. These inefficiencies have led to the proliferation of cloud-based services to help streamline business processes and improve customer and employee experiences.
According to 451 Group, a leading technology research firm, nearly 90% of companies are already using at least one cloud service. What about your business phone system, though? Have you made the switch to a cloud-based business phone system? If you haven't made the switch from a legacy PBX phone system to a cloud-based one yet, we're laying out 9 key features of VoxSun's telephony system that will help your organization stretch your resources (and dollars) and improve productivity.
1. Cloud-based system

VoxSun's business phone system is managed entirely in the cloud. This means no onsite servers, hardware, software installations, expensive maintenance or unexpected charges. Instead, you can make and receive calls, retrieve voicemails and participate in video conferences anywhere, as long as you have an internet connection.
And the best part? You receive more advanced features while paying up to 50% less compared to traditional phone systems.
2. Integrated apps

Even if you don't have a VoxSun business phone, it's not a problem. By simply downloading the free VoxSun App—compatible with iOS and Android tablets and mobile phones—users can use their laptops or mobile phones as softphones. They'll still be able to make and receive calls, send instant messages, access voicemail and participate in audio and video conferences.
3. Security and privacy

A cloud-based business phone system accommodates both the flexibility your employees crave and the security and privacy your business requires.
VoxSun ensures security by using end-to-end "secure RTP" to encrypt the voice data between your phone and VoxSun. Your security and privacy are our top concern.
4. Call management

With your customer relationship at stake, call management is a critical feature of cloud-based business phone systems. It allows your business to better control the caller's experience. Some of the key features include automated menus (IVR), voice recognition, caller ID, call transferring, call on hold, voicemail, voicemail to email, three-way conferencing and call screening.
5. Employee management

VoxSun's advanced business phone system helps ensure your employees stay productive and engaged by allowing them to make and receive phone calls wherever they are, as long as they have a reliable internet connection. The corner offices will also stay happy as your monthly telephone bill will be void of unexpected long-distance and roaming charges.
6. Analytics
A critical part of growing and enhancing your business is evaluation. By evaluating and better understanding how your company has performed in recent months, you can adjust your business plans and strategies accordingly. Using VoxSun's rich and real-time analytics, you can make your employees' lives a little easier, too.
7. Remote access

No one wants to be tied to their desk. Fortunately, VoxSun's cloud-based phone system allows employees to enjoy their freedom and use their phone service anywhere they go, whether at home, at the airport or across the world.
8. Separate office, meeting, fax plans

By using VoxSun, your cloud-based business phone system will have all of the business features you need included and none of the ones you don't. There is no longer a need to pay for features and benefits you don't need. Pay for only what you use!
9. Multiple locations support

If your organization has multiple offices, bring them all together under a single cloud-based business phone system. VoxSun's cloud-based business phone system uses a central service delivery model, meaning your customers will receive a seamless experience, regardless of geography.
By using a central service delivery model, each of your locations does not need separate phone lines. Phone service is consolidated to a central location, and the calls are redirected to individual sites based on the phone number called.
By making a small investment in the VoxSun cloud-based business phone system, you'll be rewarded with benefits and savings long-term. Would you like to see how your business can leverage these features and use the VoxSun business phone system to grow your business? Request a callback today.
Please click here to get started today and to receive a free analysis from VoxSun: https://www.voxsun.com/quote/
https://voxsun.com/wp-content/uploads/2020/10/logo-voxsun-en.svg
0
0
2021-08-31 14:04:41
2021-09-10 21:08:38
Top 9 Features of VoxSun's Business Phone System