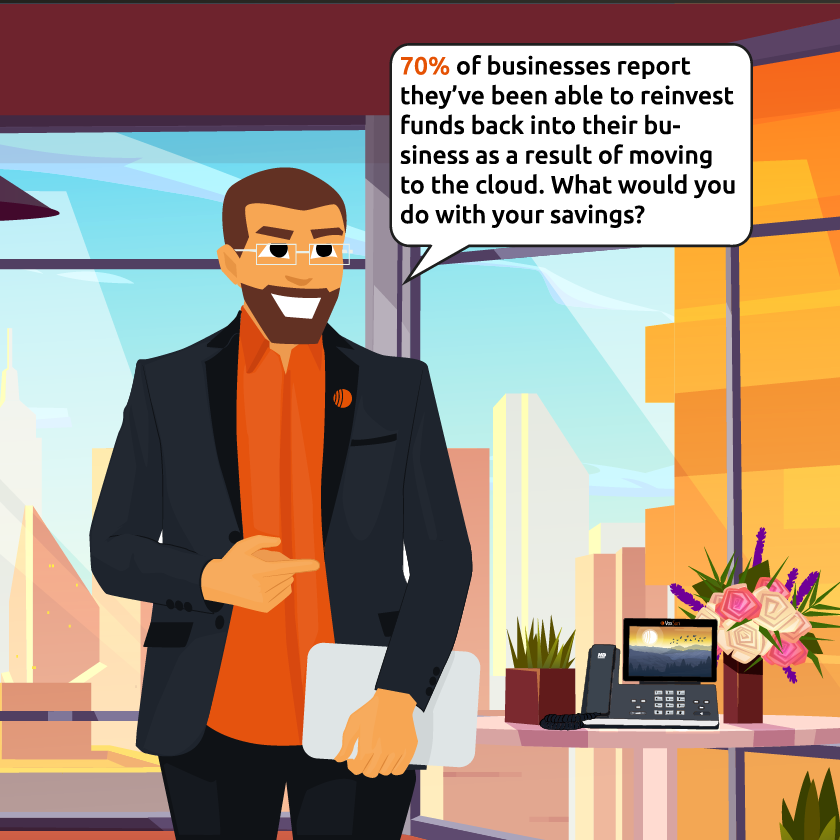 The past year has brought about significant changes to the business world. But one constant businesses are seeking are solutions to accommodate remote work without sacrificing productivity, and ways to realize cost savings in a turbulent economy. One solution checking both boxes is making the switch to a cloud-based business phone system.
When switching to VoxSun's cloud-based phone system, customers can save up to 50% over other providers. Here are seven ways VoxSun can help you save money.
1. Unlimited calling
Not all business phone systems and services are created equal. Using VoxSun's cloud-based phone system means unlimited calling across North America (excluding Alaska, Hawaii and Northern Territories). This means no surcharges, no overages and no long-distance fees—or simply, no surprises.
VoxSun's cloud-based phone system puts an end to tracking minutes and talk time and allows your team to focus on servicing customers and closing deals.
2. Choose extensions and lines to suit your businesses' exact needs
Many other providers may try to charge you one line per user (or one line per extension). As an example, let's say you have 10 users and only three people are on the phone at any given time. With VoxSun, you'd only be required to pay for 10 users at $4.99 each, and then three lines at $29.99 each.
With other cloud-based telephony providers, they'll make you buy 10 users that each comes with their own line. This would cost you, at minimum, $30 per user.
Why pay more with others when you can save with VoxSun?
3. VoxSun's Boost technology
With VoxSun's Boost technology, you'll never miss a call, yet you'll still get the best price. Boost increases your number of lines automatically using virtual lines, and at no extra charge, to accommodate your needs at any given moment. This means you'll sustain small peaks for free.
4. Consolidate your resources using a cloud-based system
Do you plan to add or acquire new locations for your business? Or do you already have multiple offices? Cloud-based, or VoIP, business phone systems deliver telephony using a central service delivery model. This means each location does not have separate phone lines. All phone service is consolidated to a central location, and then the calls are redirected to individual sites based on the phone number called.
What this means for you is you no longer need to micromanage consumption. All of the lines you buy are shared over your entire system.
5. High value hardware
VoxSun's HD business phone system devices offer more bang for your buck. Starting at $139.99, VoxSun's HD hardware phones cost only a fraction of what other traditional on-premise systems cost, yet offer more features. The phones feature LCD screens and superb sound quality.
Aside from phone and video conferencing devices, VoxSun also offers enterprise routers with advanced Wi-Fi. The phones also include quality of service (QoS) to ensure the best voice quality. The routers are extremely customizable and are well-respected by customers and technicians alike.
6. Forget extra hardware and use VoxSun Apps
The VoxSun App—compatible with iOS and Android phones and tablets—provides even more flexibility for your team. Do you have employees who are remote or simply just don't use the phone too often? Then you likely won't even need to buy hardware for those employees. Instead, have these employees download the free VoxSun App to make and receive phone calls and check their voicemail and faxes on the go!
7. Bonus: increased employee productivity
There is yet another ancillary benefit of making the switch to VoxSun's cloud-based telephone system. With features such as phone and video conferencing and CRM integration, you and your team can save time by being more efficient. With crystal clear audio and video quality, business travel may become an option and not a requirement. Using VoxSun, you'll have more time to focus on satisfying customers and closing deals.
Cloud-based phone systems certainly save businesses money, but their benefits go far beyond that. Contact VoxSun, or request a callback, to learn how we can help you increase productivity and decrease costs today.
Please click here to get a free analysis: https://www.voxsun.com/quote/
https://voxsun.com/wp-content/uploads/2020/10/logo-voxsun-en.svg
0
0
2021-06-29 13:18:19
2021-09-10 20:29:18
How VoxSun's cloud phone system saves you money