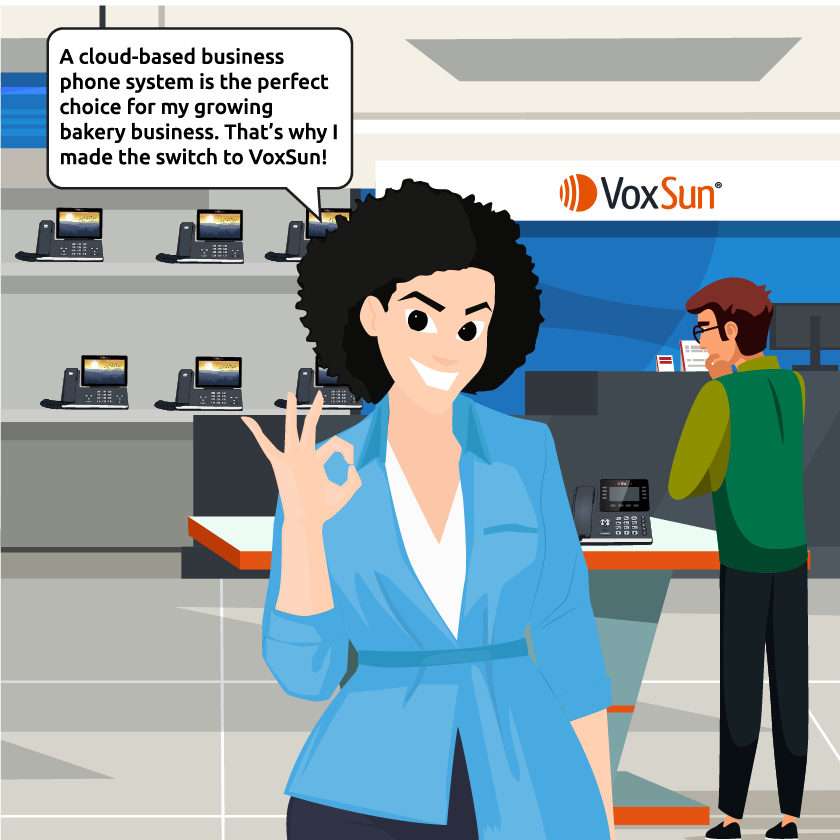 Have you ever thought about how often you use cloud-based services in your day-to-day life? From file storage to email and CRMs to collaboration tools, much of your day is likely already spent in the cloud. Can you say the same thing about your business phone system? Despite advancing other areas of technology, some businesses haven't quite made the leap from dated Private Branch Exchange (PBX) phone systems to a modern cloud-based phone system—despite the many benefits of doing so.
Let's discuss what a cloud-based phone system is and why it's the best choice for companies.
What is a cloud-based phone system?
Just like accessing your documents in the cloud—think Google Drive or Docs—cloud-based phone systems, also known as Voice over Internet Protocol (VoIP), are virtually hosted systems. This means your phone calls are made over the internet rather than using a traditional analog phone system requiring phone wires. Cloud-based phone systems can be used by anyone, anywhere, as long as they have a reliable internet connection.
What are the primary benefits of using a cloud-based phone system?
1. Unlimited calling
Remember the days of getting phone bills in the mail and you never quite knew what to expect when you opened it up? Say goodbye to surprises. Using VoxSun's cloud-based phone system, you can make unlimited calls anywhere in the United States and Canada, with no long-distance fees or surprises.
2. Unified system
The world is rapidly changing around us, as is our way of working. More employees are working remotely than ever before. Are you equipping your employees for success as they work from home or on the road? Using a cloud-based system, they can phone or video conference anywhere they have an internet connection.
Whether employees are in the field, with a customer or working from home, they can still stay in touch with customers and colleagues wherever they are that day. Users can access the system through physical business phones, softphones (PC Phone VoxSun) or a smartphone using the VoxSun App.
3. Flexibility
Businesses—especially small businesses—change and grow, so having the ability to quickly scale up or down is a necessity. For example, if you add new employees, your company has to adapt its phone system to accommodate the need for additional lines. This is more difficult to accomplish using traditional on-premise PBX business phone systems. It involves higher set-up and maintenance costs, requires hardware onsite and relies on in-house IT support. Using a cloud-based phone system makes adding new employees quick and easy. Phones for new employees can be configured in a matter of minutes.
Not only does the flexibility help your employees but also your customers. Using advanced phone system features, the VoxSun cloud-based phone system helps ensure a frustration-free customer experience. Some of the key features include:
Automated menus (IVR) – IVR systems help connect your customers with the service they need through an automated menu. The menu then quickly directs callers to the right person or department.

Voice recognition – Voice recognition streamlines your phone system by allowing callers to simply say the name of the person they're trying to reach.


Voicemail to email – When you can't come to the phone, VoxSun answers your calls and you can then retrieve your messages remotely through your email. The voicemail is routed to your email as a sound file.

CRM integration – VoxSun's phone system integrates with some of the biggest CRM products on the market. This integration eliminates misdials and manually dialed numbers and provides callback reminders, among other features.

Call recording – Are you looking to improve your customer service interactions, or do you want to protect your company from disputes? Call recording is a free feature on the VoxSun telephony system that can be activated at the touch of a button.

Calling queues – The calling queue accepts customer calls, plays a greeting message, and then places these calls in a queue as they wait for an agent.


Call forwarding – The call forwarding system transfers your calls to another extension, phone or even your mobile phone. Now you can be reachable even if you're out of the office.
4. Reliability
It's a fact that some phone system disruptions happen with phone providers. Especially PBX phone systems, or traditional landline service, where you're reliant on on-premise hardware and are more susceptible to power outages.
Using a cloud-based phone system, if the internet were to go down, users have the option to activate automatic call forwarding to another phone, such as their cell phone. This means you can answer calls no matter what the circumstances may be.
Internet usage also does not affect the quality of cloud-based voice communications, even if you're using the internet for file uploads or downloads. VoxSun's ActivVoice ensures calls will be stable and 100% clear.
5. Cost savings
Are you wondering if it's worth making the switch to a cloud-based business phone system? Customers typically save up to 50% compared to traditional phone systems. Yes, you read that right. Getting started with, and maintaining, a cloud-based telephone system makes budgeting predictable. Also, with no on-site hardware or equipment, you don't need to pay for maintenance or license fees to maintain physical hardware onsite.
Using VoxSun's Boost technology gives you another advantage. Boost automatically increases your number of lines as needed at no extra charge. Activating Boost means your needs are accommodated at any given moment, and you'll never miss a call.
Is your business looking for another way to cut operational costs while increasing reliability and flexibility? Then it might be time to make the switch from a traditional PBX phone system to a modern cloud-based business phone system.
To get started, contact VoxSun for a free quote to learn how much your business can save.
Please click here to get a free analysis: https://www.voxsun.com/quote/
https://voxsun.com/wp-content/uploads/2020/10/logo-voxsun-en.svg
0
0
2021-05-04 13:45:23
2021-09-10 19:00:46
5 Benefits of Using a Cloud-Based Phone System