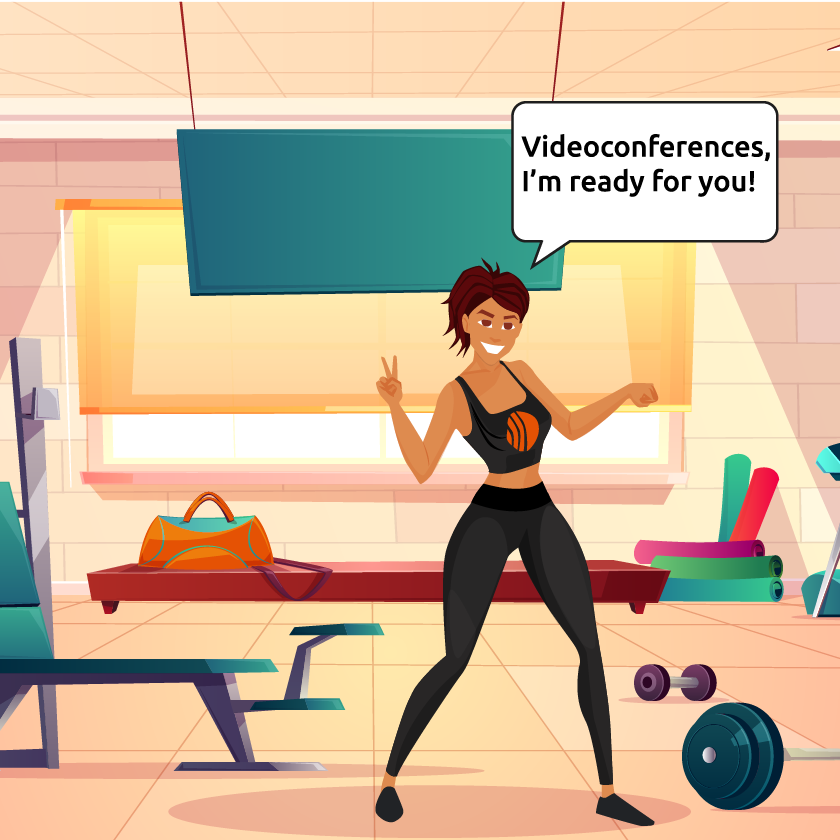 By now, we've all spent countless hours on videoconferencing. Surely you've found yourself on videoconferences hosted on many different platforms—Zoom, GoToMeeting, Microsoft Teams, Webex, Google Meet, and the list goes on. While they may all seem similar, they each have their own unique features, and VoxSun's Videoconferencing system is no exception.
Today we're touching on the top 10 features of VoxSun's videoconferencing system that will add value to your business and will help enhance the user experience.
1. No Hardware to Buy or Software to Install
Five minutes before a video call, have you ever found yourself emergency dialing the IT team for admin rights so you could install the necessary video conferencing software? Oh, the horror. With VoxSun, that's a nonissue. VoxSun requires no hardware to buy or software to install. Simply click a link and you're in the videoconference within seconds.
This frees up your IT team from installing software, and with its easy-to-use interface, it means higher adoption by users. Oh, and it'll save your team from a whole lot of unnecessary stress!
2. Use Dial-in Phone Numbers to Join from Anywhere
Do many of your employees spend a lot of time on the road? The VoxSun videoconferencing system features regular dial-in phone numbers, like a traditional phone conference—meaning participants can join from their cell phone wherever they are. Whether they're at home, on the road or halfway across the world, it's no problem at all.
3. Crystal-Clear Voice and Videoconferencing
One of the benefits of videoconferencing is seeing body language and nonverbal cues—things you just don't have access to on phone calls. When you can't be in the same room together, you can make up for it in other ways through videoconferencing. With VoxSun's crystal-clear voice and video communications, it'll help ensure you can see exactly what someone is saying or not saying.
4. Meeting Minutes Made Easier
You're likely used to taking notes in a notebook, right? If so, VoxSun lets you give your notebook a break as you take meeting minutes right within the system. When the meeting ends, minutes are automatically generated and emailed to meeting participants. This will help ensure all of the to-dos get checked off quickly.
5. Virtual Whiteboard
In the office, you'd often find teams gathered around whiteboards. With VoxSun videoconferencing, we've taken whiteboarding virtual.
By using the whiteboard feature, you can brainstorm, diagram and creatively collaborate with your colleagues, customers or both. Draw freehand on the screen or use predefined shapes to help bring your ideas to life. Then, at the end of the meeting, all of the whiteboard slides can be downloaded as PDFs.
6. Make Your Presentations More Engaging
Presentations and slideshows can often be one-sided and a little dry.The presenter shares their deck while participants observe or ask the presenter to repeat or go back one slide. Until now.
With VoxSun videoconferencing, you can run a more engaging presentation and allow participants to draw on slides in real time to highlight important points. It's an innovative way to keep participants on the same page, without having to swap screens or grant permissions.
7. Easily Share Documents
Remember running to the copy machine to make too many copies right before you hosted an in-person meeting? Between that and fighting tangled cords and cables in the conference room to project your laptop, half the battle started before the meeting even began.
With VoxSun videoconferencing, you don't have to worry about that anymore. Easily upload and share documents among all participants. And once you're done presenting and discussing, the documents can be deleted, if necessary.
8. Share Your Screen to All Participants
Easily share your screen or a specific application window to all participants in your meeting. Whether it's a spreadsheet or presentation, participants can track the presenter's cursor in real-time to keep up with the conversation, too.
9. Collaborate with Real-Time Chat
With VoxSun videoconferencing, there's no need for a separate chat app. Use the embedded, real-time text chat feature to keep communication and brainstorming in one spot. The chat system allows participants to send and receive messages instantly.
10. Help Improve Your Bottomline
Between the cost of real estate in big cities and business travel expense reports, it's no wonder many companies hope to expand their use of videoconferencing. With VoxSun's face-to-face like capabilities, it will make travel optional for your team, not required. Deliver a collaborative and near in-person experience without the high cost of travel.
VoxSun videoconferencing allows you to facilitate all of these benefits without requiring constant travel and lost productivity to facilitate face-to-face communication. Contact VoxSun to learn how your business can benefit from videoconferencing today.
Please click here to get a free analysis: https://www.voxsun.com/quote/
https://voxsun.com/wp-content/uploads/2020/10/logo-voxsun-en.svg
0
0
2021-05-18 14:18:26
2021-09-10 19:03:54
10 Features to Add Value to Your Videoconferencing System